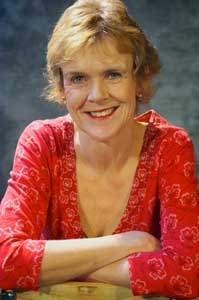 BREAKING NEWS! LATEST RUTH RICH PLAY  "UpDownSizing" was launched in November 2018
Ruth is suffering from empty nest syndrome. Time to downsize. Sale and purchase agreed. All organised to a T.
Nothing can go wrong. Except this is Ruth Rich.  And it's begun to rain …  Go to www.ginnydavis.com/updownsizing
Sponsored by Avonvale Veterinary Centres, Lodders Solicitors, Penman's Solicitors, ehB Residential, R Locke & Son and Sheldon Bosley Knight
Ginny Davis is a writer and performer who is committed to writing and performing authentic plays. She draws on personal experience, close observation and research.
In  "Learned Friends" she draws on a lifelong association with the law.  Her father was a solicitor, her mother was a JP. Ginny worked as a criminal barrister in Birmingham and is married to a High Court Judge.
Ginny is also a regular speaker to WI, Probus, village and community groups.  The 2015 centenary of WI, and many hours spent watching and listening whilst waiting to give her presentation have inspired "Arrows of Desire" a brand new one-act play.
Her successful series of comedic one woman plays  "The Ruth Rich Saga" are portraits of modern family featuring the Rich family: mother, father, granny and three teenage/young adult kids.  The latest play in the series: "UpDownSizing" was written in 2018.
Earlier play scripts are available for hire by amateur or professional theatre groups.
CURRENT PLAYS AVAILABLE FOR TOURING:
Learned Friends
NEW!  Prosecution and Defence counsel await the verdict in the trial of a high profile football manager.  Relationships, careers and the true course of justice are threatened as irregularities in the trial emerge.  With echoes of "Twelve Angry Men" the play takes the audience behind the scenes of criminal proceedings.
More Info
Double Booked
"Wonderfully light and effortlessly hilarious, 'Double Booked' is the epitome of heart-warming comedy."
Three Weeks
Edinburgh Fringe 2010 – total sell out!
BUXTON FESTIVAL FRINGE 2011 – total sell out!
NOMINATED FOR BEST THEATRE PRODUCTION – Buxton Festival Fringe 2011
More info
Something Fishy
"A hilarious and instantly recognisable depiction of family mores."

– FringeGuru
 FringeGuru (Buxton Festival Fringe 2012)
 www.fringereviews.com (Brighton Fringe 2012)
 www.whatsonstage.com (Brighton Fringe 2012)
More Info
Home Truths
A double bill of "Double Booked" and "Something Fishy"
"A pair of very witty monologues. Think Outnumbered written by Joyce Grenfall and you will have some idea of the beautifully accurate characterisations."

Dave's Leicester Comedy Festival.
More info
ARROWS OF DESIRE
A lighthearted play set in a rural WI performed by Ginny Davis and Sharon Baylis.
Sally Brown, President of West Nippleton WI holds tradition dear but radical change is on the agenda for this month's meeting. An unexpected visitor arrives with bad news, challenging opinions and Cupid's arrow.
Will she change Sally's mind?
"Spot on" WI member
More Info
UpDownSizing
The latest Ruth Rich play written and first performed in 2018.
A one woman comedy featuring Ruth Rich and her cohort of friends and family as she prepares to downsize.  Never a stranger to chaos nor far from a cup of tea Ruth confronts food allergies, pregnancy, uninvited guests and everything being not quite as it first appears in a further tale of the unexpected.  Ginny Davis plays nine roles ranging from millenials to the very ancient.
---
---
"To the Fringe and Beyond"
"The Funny Side of Parenting"
"Ten Days … that shook the Kitchen!"
"Family Matters"
"Double Booked"
"Something Fishy"
"Hound Dog"