Ginny was born in Birmingham and educated at schools in Birmingham and Malvern. She read Law at the University of Cambridge. In 1989 she was called to the Bar and practised criminal law in the Midlands until the birth of her daughter, when she become a stay at home mother. She would not call this giving up work.
As Chairman of her children`s School PTA Ginny produced four successful revues, for which she wrote and performed  sketches. One of these, "The Diary of Mrs Bridget Jones" forms the first scene of her first one-woman comedic play "Ten Days .. that shook the kitchen!" "Ten Days …!" was a sell-out over three weeks at the 2008 Edinburgh Fringe Festival and became the first of the six stand-alone plays which comprise "The Ruth Rich Saga". ("Ten Days ..!", "Family Matters", "Double Booked", "Something Fishy", "Fashionably Late" and "UpDownSizing".)  Ginny now works full time writing and performing her own material.  Further plays are "Hound Dog" 2013 (celebrating her importation of a harehound from Crete), "Learned Friends" 2015 (a courtroom drama. Winner "Best Original Piece" Birminghamfest 2016) and "Arrows of Desire" (a lighthearted comedy set in the context of a rural Women's Institute). She performs throughout the UK in venues ranging from private sitting rooms to 300 seat theatres via school and village halls. Audiences have included members of the royal family, a pet labrador, a chicken and numerous mayors. She has performed at the Fringe Festivals in Edinburgh, Brighton, Buxton and Stratford upon Avon. In July 2009 she became a "plinther" and performed for one hour on the fourth plinth in Trafalgar Square as part of Antony Gormley's "One And Other" project.  In 2016 she took part in Spencer Tunik's "Sea of Hull" art installation.
She has performed in four training DVDs for the Judicial Studies Board and also writes short stories. "Requiem" won the Oundle Festival of Literature Short Story Competition in 2008. "The Judge's Clerk" and "The Tenancy" were shortlisted in the same competition in 2009 and 2010 respectively.
Ginny`s children have achieved more acting fame and success than she ever will. Rosie (26) played Pip in The Archers (Radio 4) for three years. Ralph (23) is a professional actor who has performed at Shakespeare's Globe Theatre and with the Royal Shakespeare Company.   Her husband, Bill, is a High Court Judge. He has performed at The Loft Theatre, Leamington Spa and The Talisman Theatre, Kenilworth. His "Basil Fawlty" is something else.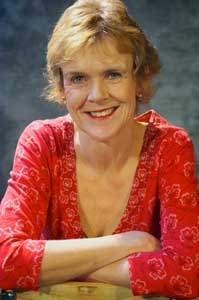 Previous Tour Venues include:
Garrick Theatre, Lichfield
Stahl Theatre, Oundle
Artrix Theatre, Bromsgrove
Old Joint Stock Theatre, Birmingham
Loft Theatre, Leamington Spa
Talisman Theatre, Kenilworth
Braintree Arts Theatre
MCT at Alleyn's School, Dulwich
Playbox Theatre, Warwick
The Place, Bedford
Bromsgrove School
Bridge House Theatre, Warwick for Warwick Words
Tolmen Centre, Constantine, Cornwall
Pleasance Theatre, Islington
Blue Orange Theatre, Great Hampton St, Birmingham.
The Central Criminal Court, Old Bailey, London.
Tutbury Village Hall, Monk St, Tutbury, Staffs
The Players Theatre, Nelson St, Thame, Oxon.
Staveley Roundhouse, Main St, Staveley, Cumbria .
The Heron Theatre, Beetham, Cumbria, Stanley St, Beetham, Cumbria
West Deeping Village Hall, King St, West Deeping, Lincs
Hemswell & Harpswell Village Hall, Maypole St, Hemswell, Lincs
Broughton Parish Rooms, Main Rd, Wetwood, Staffs
Central Criminal Court, Old Bailey, London
Manchester Crown Court
The Robin Hood Theatre, Church Lane, Averham Notts
Broadbent Theatre, Snarford Rd Wickenby, Lincs LN3 5AW
Caistor Town Hall, North St, Caistor Lincs
Queen Elizabeth II Law Courts, 1 Newton St, Birmingham B4 7EH.
Buxton Fringe Festival (2014, 2012, 2011)
Edinburgh Fringe Festival (2008, 2010, 2013)
Brighton Fringe (2011, 2012)
Venues in Warwickshire, Worcestershire, Staffs and Derbyshire for Live and Local Rural Touring Scheme
Rural touring venues in Notts, Leics, Rutland and Lincs
Ettington Community Centre
Byfield VH
Lapworth VH
Wellesbourne VH
Fenny Compton VH
Salt VH
Chesterfield Hub
Rous Lench VH
Garrick Theatre, Lichfield
Stahl Theatre, Oundle
Artrix Theatre, Bromsgrove
Old Joint Stock Theatre, Birmingham
Loft Theatre, Leamington Spa
Talisman Theatre, Kenilworth
Braintree Arts Theatre
MCT at Alleyn's School, Dulwich
Playbox Theatre, Warwick
The Place, Bedford
Bromsgrove School
Bridge House Theatre, Warwick for Warwick Words
Buxton Fringe Festival (2014, 2012, 2011)
Edinburgh Fringe Festival (2008, 2010, 2013)
Brighton Fringe (2011, 2012)
Ettington Community Centre
Byfield VH
Lapworth VH
Wellesbourne VH
Fenny Compton VH
Salt VH
Rous Lench VH